This page has gone to the Dogs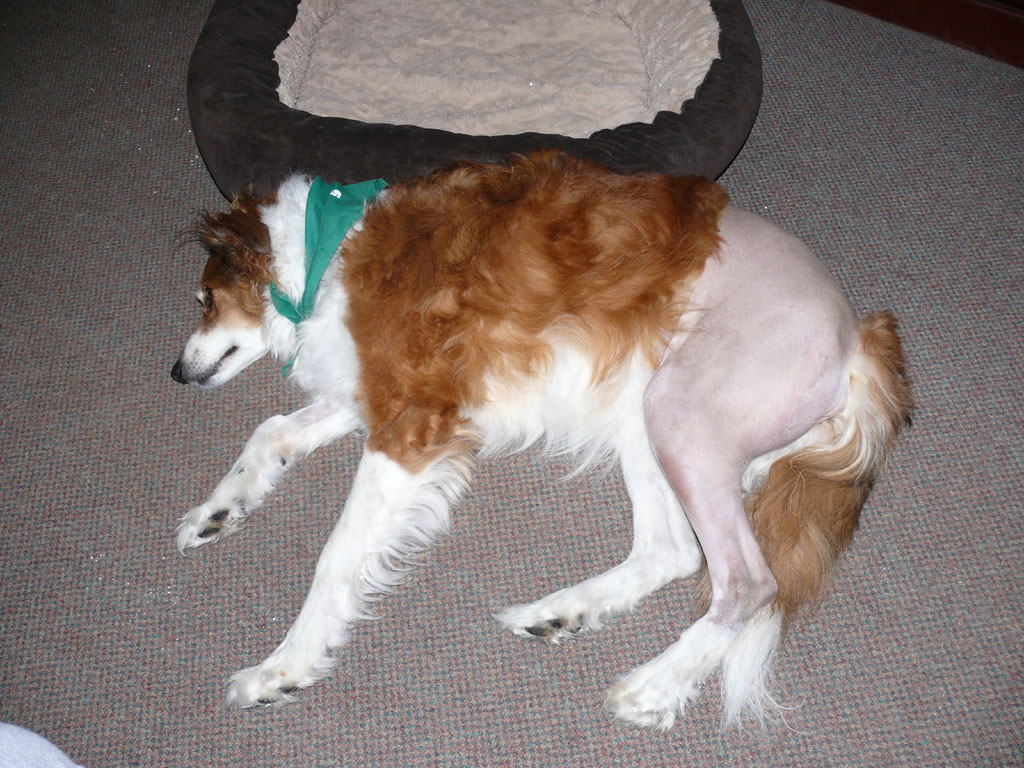 Dog number 2 to have TPLO (Tibial Plateau Leveling Osteotomy) surgery. Ralph had it years ago, now it's Madison's turn. We have no idea how she injured her knee but she had about a 50% tear in her crutiate ligament.
Here is a very nice site explaining it all. http://www.vetsurgerycentral.com/tplo.htm
So poor Madison has to recover and grow fur back on her shaved back side when temps are in the single digits here in Michigan in February. 8 weeks of going out on a leash with no running or jumping. If you know our Madison, you know how hard this is to maintain.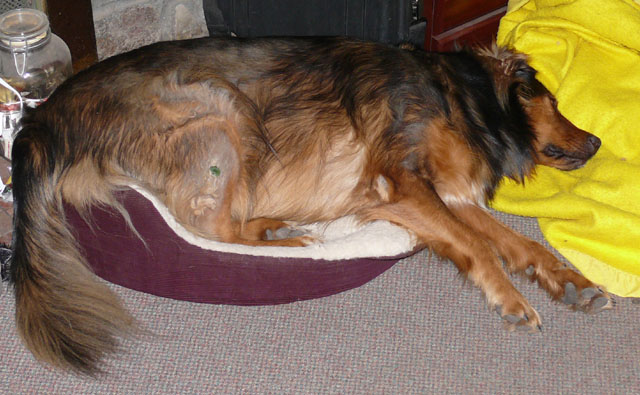 We have GOT to get Sydney a bigger bed! I guess SHE thinks she fits.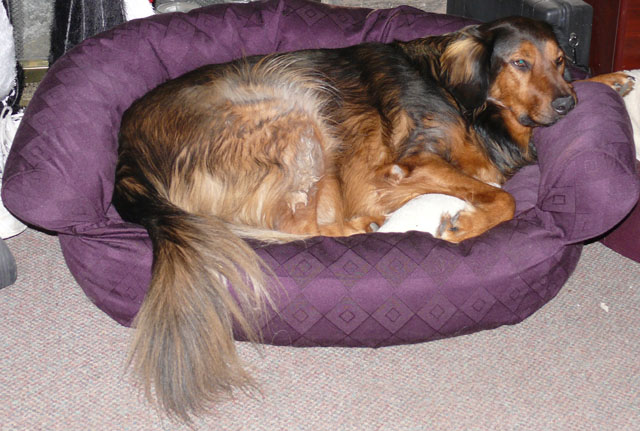 Days later. Whadda ya know. A new bed for Syd.
She needed NO coaxing to hop right in. Ok, it's Sydney, so no hopping, more of a FLOP.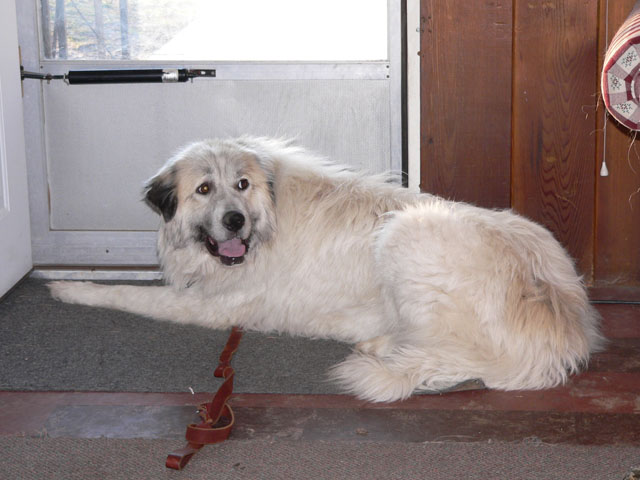 This is our latest family addition. On 1/21/06, we adopted Allie from Educated Animal Rescue in Bellevue, MI. She's ~15 months old, very sweet, and very timid. She's going to take some work, but she will be worth it. Right now, we're learning not to be afraid of the ceiling fans. :-) Madison and Sydney are showing her the ropes. They seem to be getting along pretty well.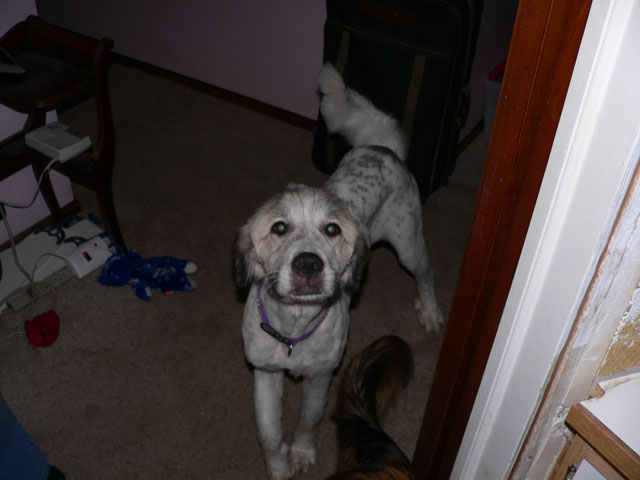 And now we're a Dalmatian. Allie went the groomer and her fur was matted and skin irritated underneath, so she is sporting the new coiff. 2/7/06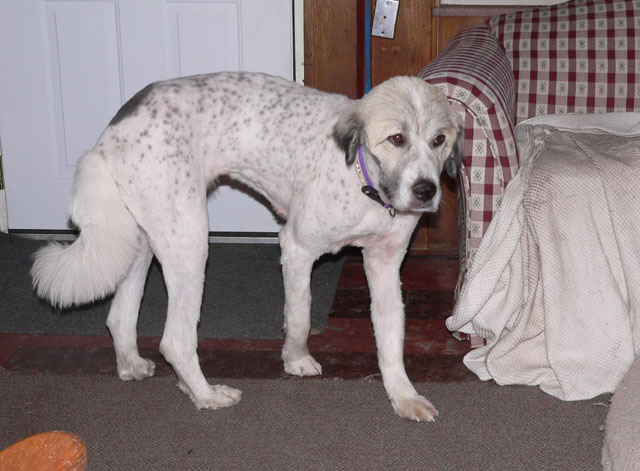 And another shot of our hairless Pyr. When we go out we have to have our sweatshirt on and don't say out too long. Hopefully she won't be a Dalmatian too long. :-) This gives you an idea how skinny she is. We go back to the Vet on Monday and will find out how much weight has been put on while being at the Kester home for the last 3 weeks. She was only 60 pounds when we got her. She's been eating well and getting lots of Dog Biscuits.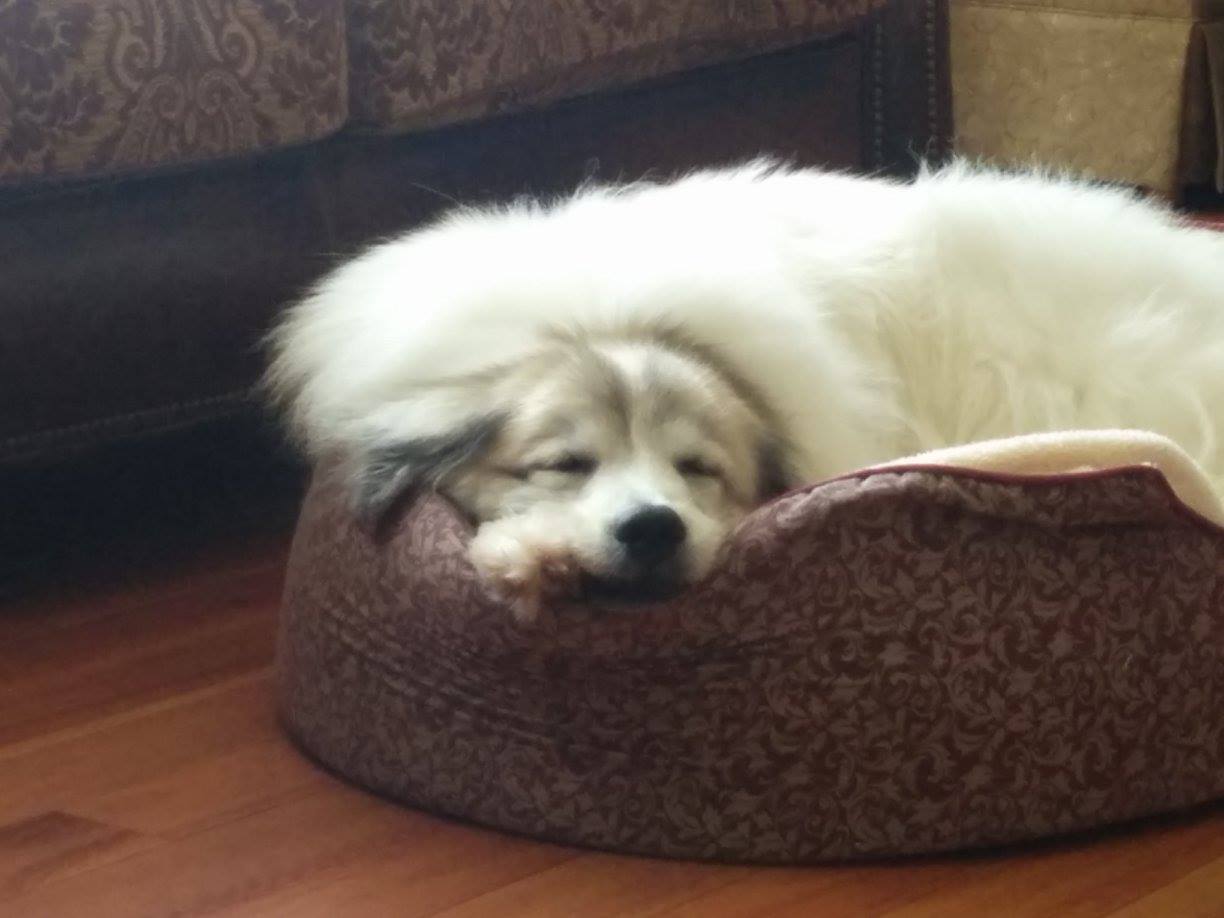 Allie
The dog that "saw" things and stared at the ceiling,
The dog that for weeks initially would not come in causing Terry to fall and slam head first into a fence trying to catch her,
The dog who dug holes a foot and a half deep and 3 feet wide,
The dog who caused mom to fall in the winter chasing her and end up with a broken arm,
The dog whose bed was in the middle of the hallway and everyone ELSE had to step over it,
The dog who loved her weekend car rides,
The dog who would lay her smooshy face in your lap and melt you into a puddle,
The dog we miss terribly.
July 2003 - June 9, 2016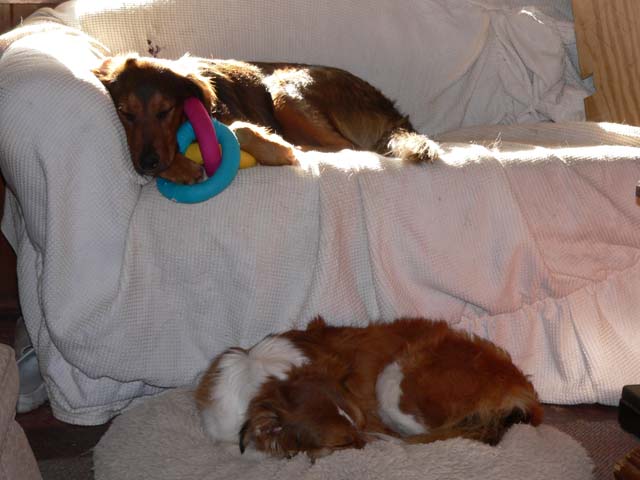 Sydney and Madison taking a break after some swimming and playing on 8-28-2005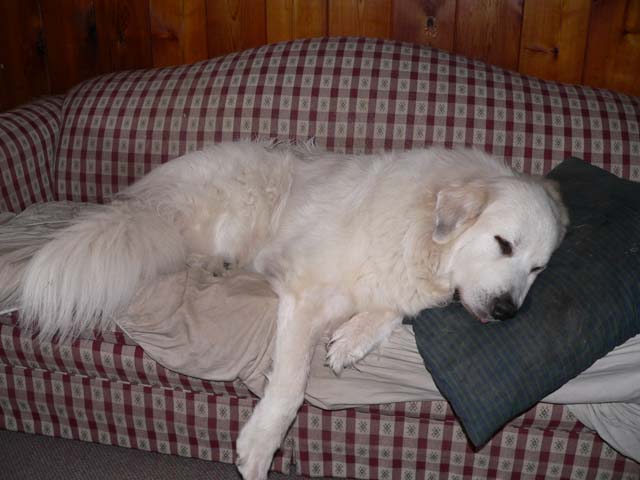 And Lacie was doing some sympathy snoozing.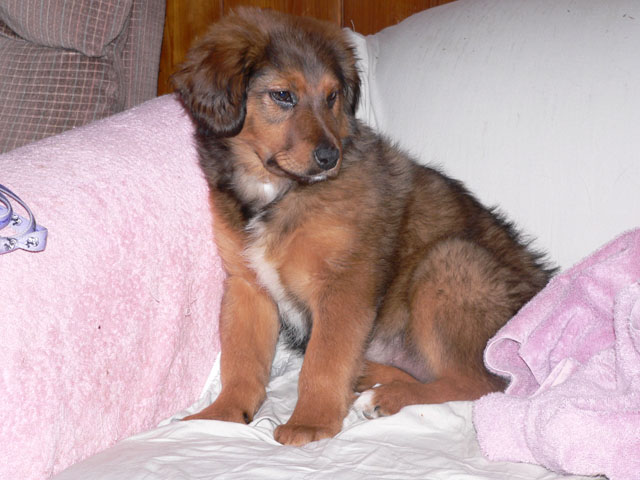 Another new family member. Her name is Sydney. We picked her up on 2/1/05 from the Humane Society of Huron Valley out in Ann Arbor, She's 12 weeks old.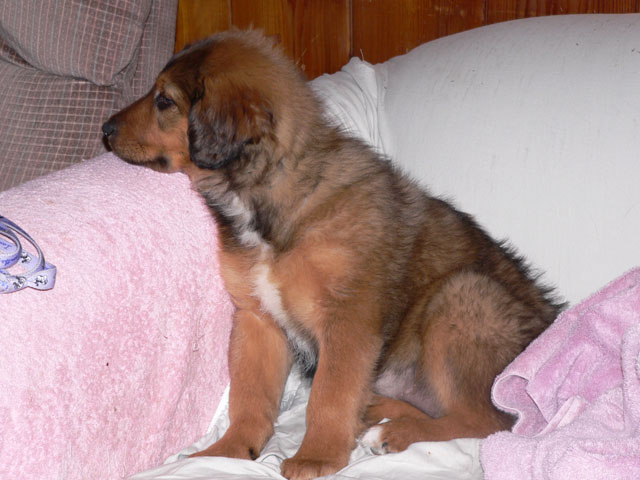 The people had 5 puppy's they brought in and claimed they are Husky-Lab mix.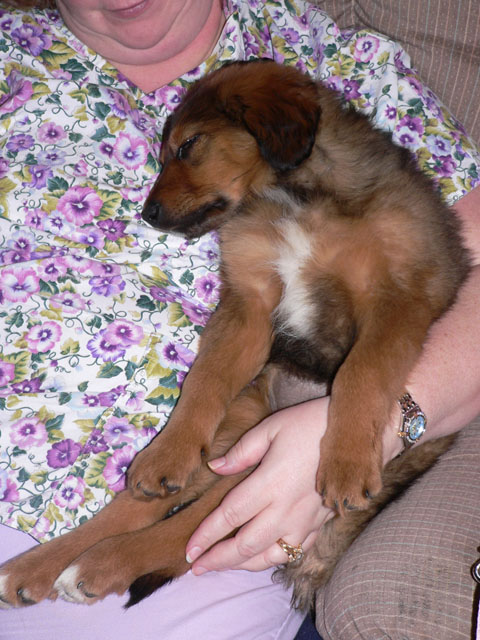 Very sleepy girl (the dog) after her Spay surgery.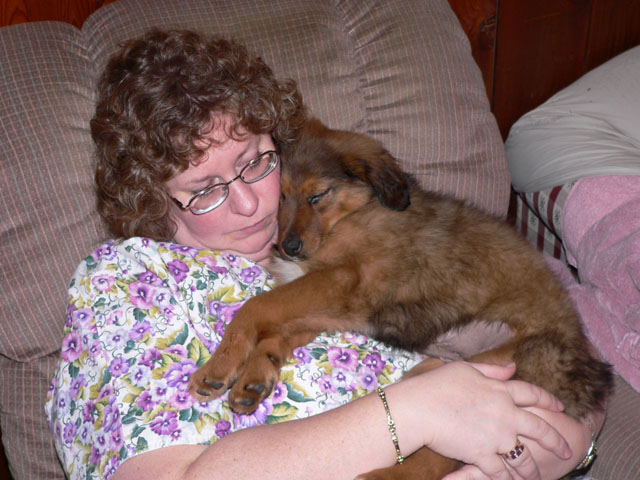 What seems to be the usual shot of Patty in the chair in the rec-room with a small dog in her arms.
This is Sydney at 6 months old.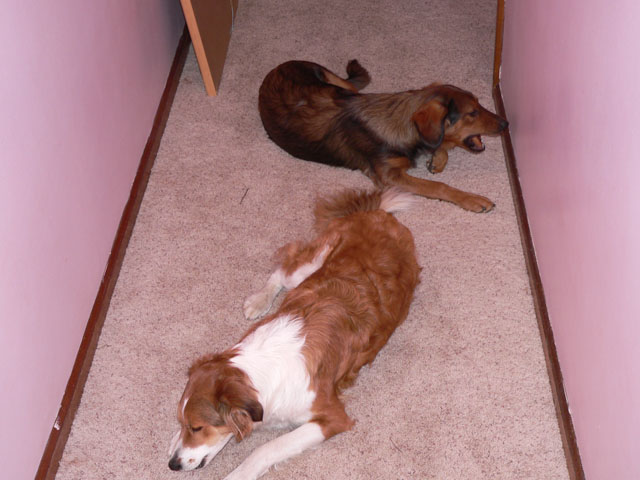 Sydney and her best pal Madison enjoying a morning treat.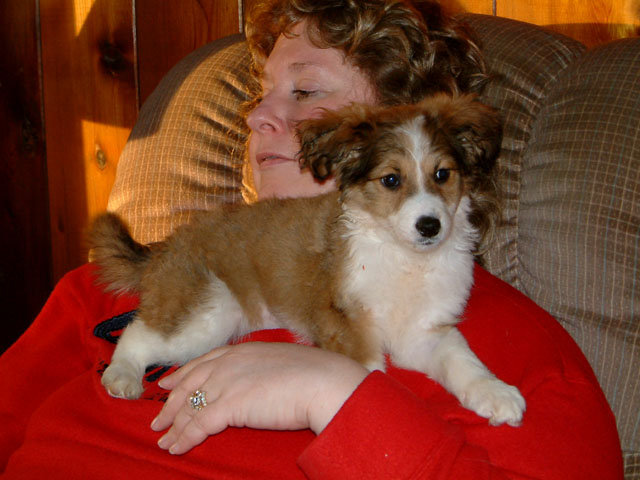 Here is the second to the latest edition to the Kester household. Her name is Madison. We got her on 1/16/04 and she was 2 months old.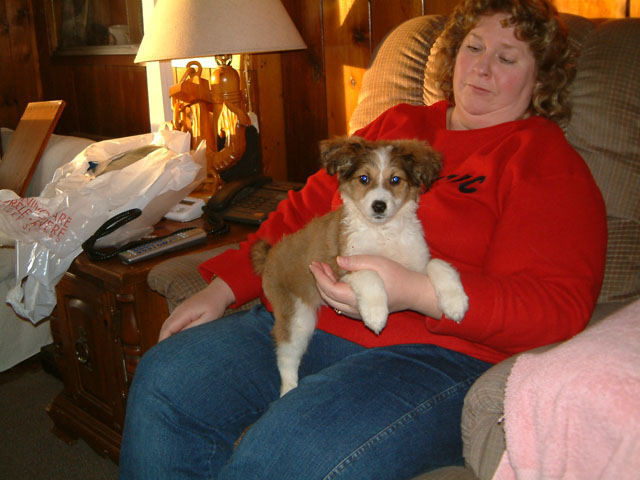 Here's another shot. I (Terry) sure hope she gets bigger. She's a little rat dog at the moment!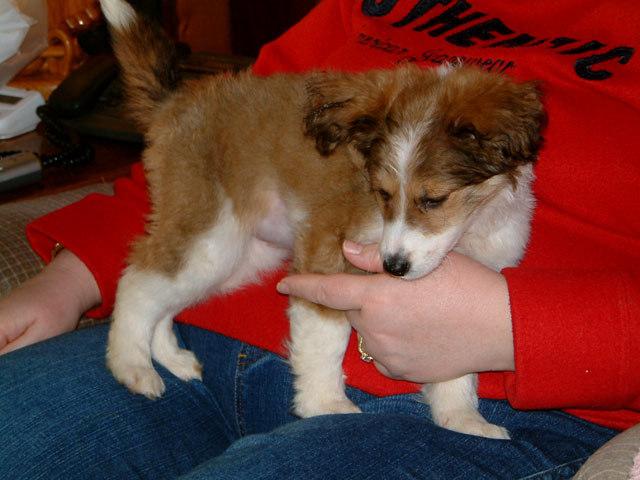 And one more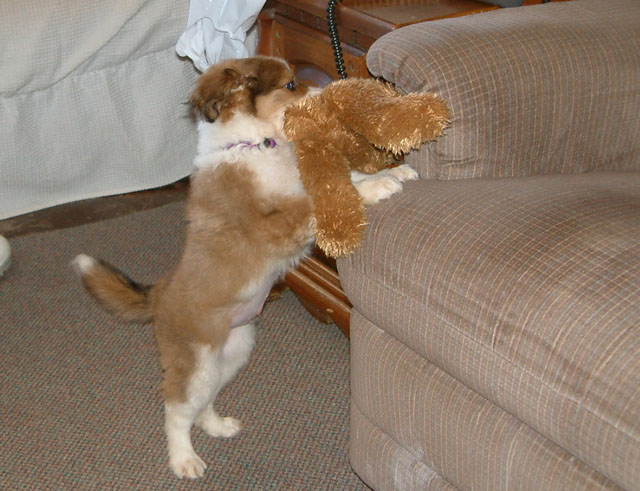 Madison tackling the stuffed bear.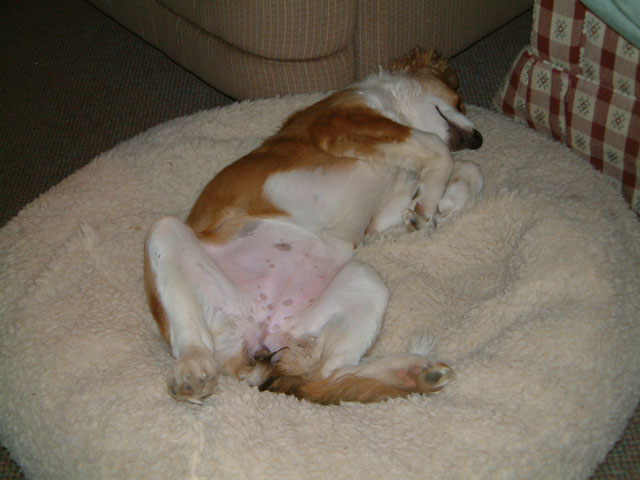 Here she is a 4 months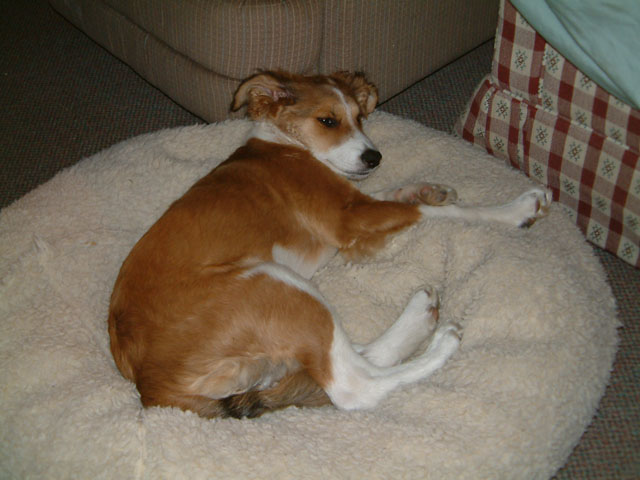 Ya, why are bothering me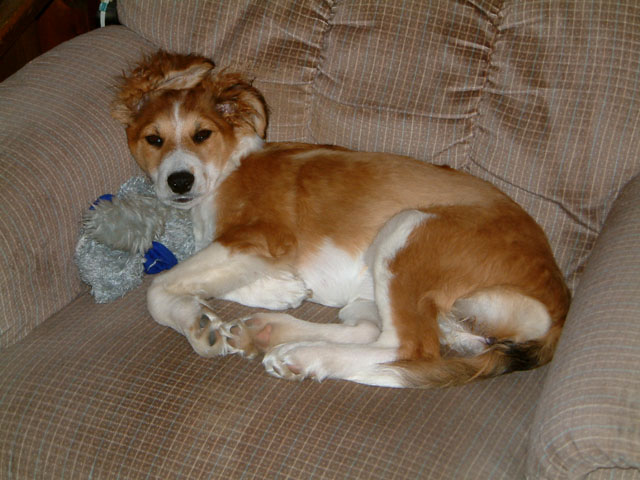 Another 4 month shot. Resting in the chair.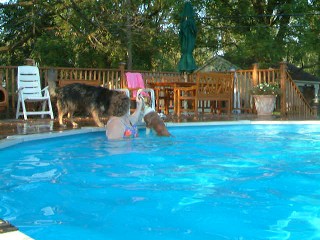 Madison the swimmer
Click here for a small video of the picture above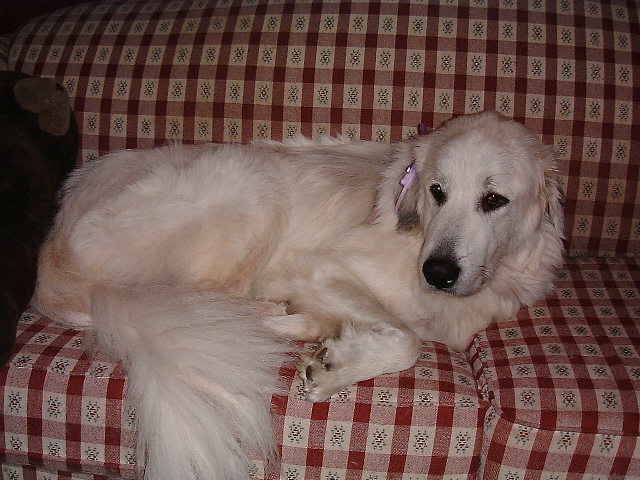 Here's the 2nd latest addition to our family (9/04/03). This is Lacie.
In this picture she is 81 pounds and not a real happy dog.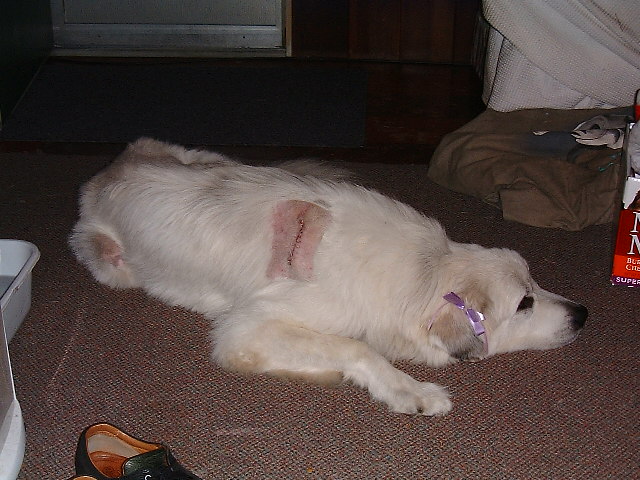 Another shot of Lacie. The Humane Society found a tumor on her while she was being spayed. We didn't even get her home before she needed surgery. Sheesh!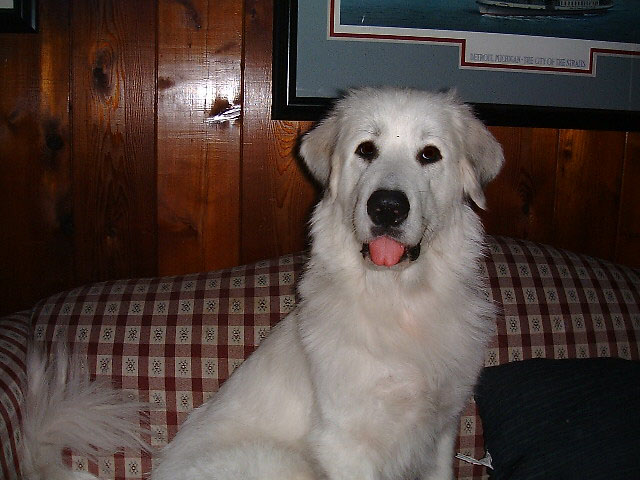 After a few weeks, looking much perkier.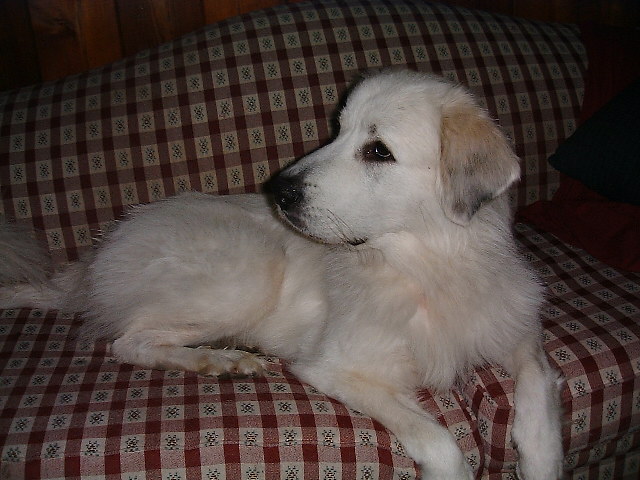 The shoe destroyer!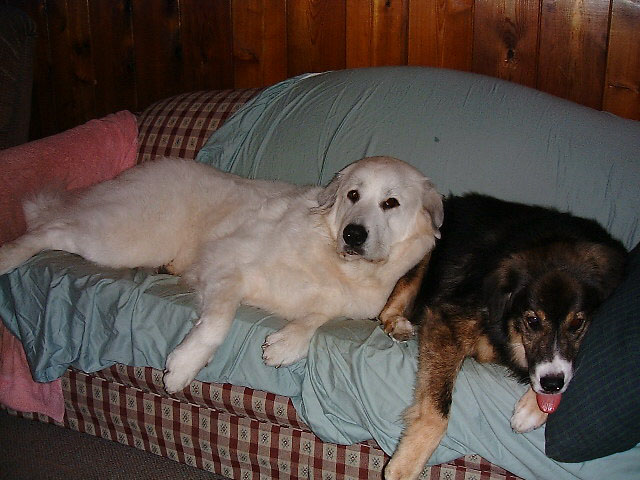 Sammy and Lacie the day after their grooming (12/18/03)
Lacie is now 106 pounds as of 12/16/03
Leave it to the Kester's to fatten someone up!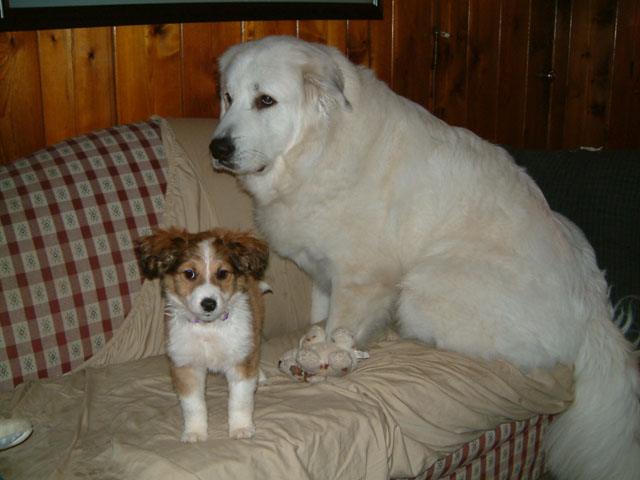 Here's one of Lacie and Madison. Lacie is 2 years, Madison is 2 months old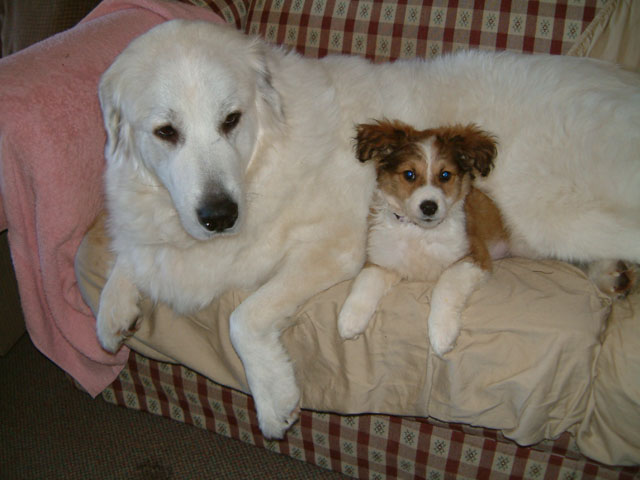 We're starting to get along a little better. (At least Lacie is)

Sad news. On December 3, 2005 we had to put Lacie down. She had developed Osteosarcoma (Cancer) in her right front leg and the prognosis was not promising. Rather than put her thru a leg amputation and chemotherapy, we had to make the best decision on her behalf. At least she had a better life in her two years with us. We miss her very much.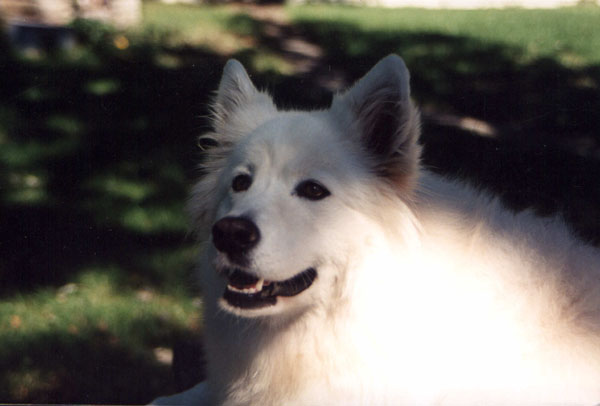 This is the Ivory Dog. She was Patty's dog before we got married. A real Sweetie. She's a Samoyed. Very nice dog, unless you're a critter in our back yard, then watch out!
We miss her very much.
Ivory Sprinkles
June 14, 1990 - January 5, 2004
In our hearts always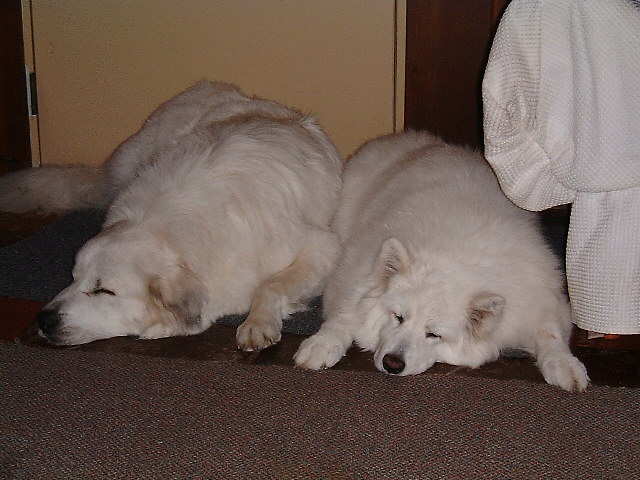 A quiet Saturday afternoon for Lacie and Ivory.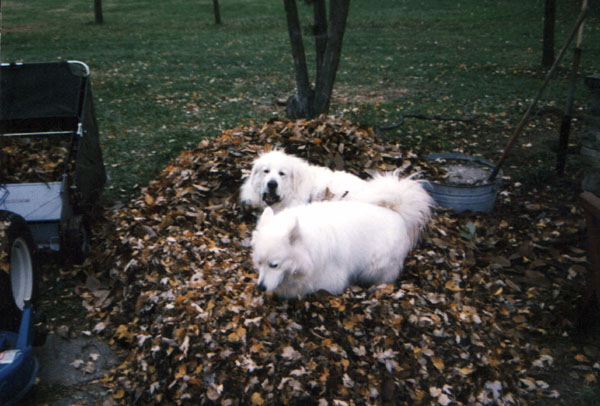 Ralph and Ivory enjoying a pile of leaves on a fall afternoon.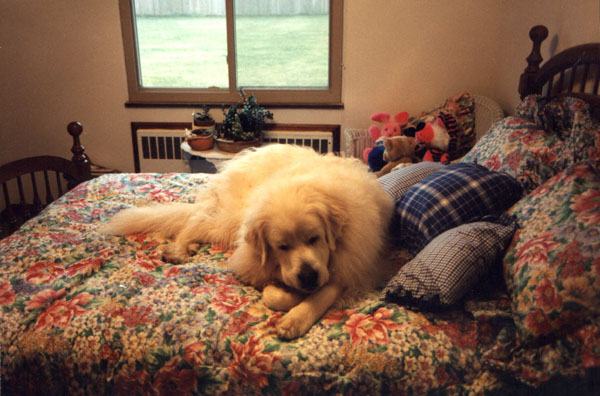 This was Ralph. He was my wedding present from Patty. One of his favorite activities. Snoozing!!!
Ralph was a Great Pyrenees. He was about 30" tall at the shoulder and 150 pounds of love.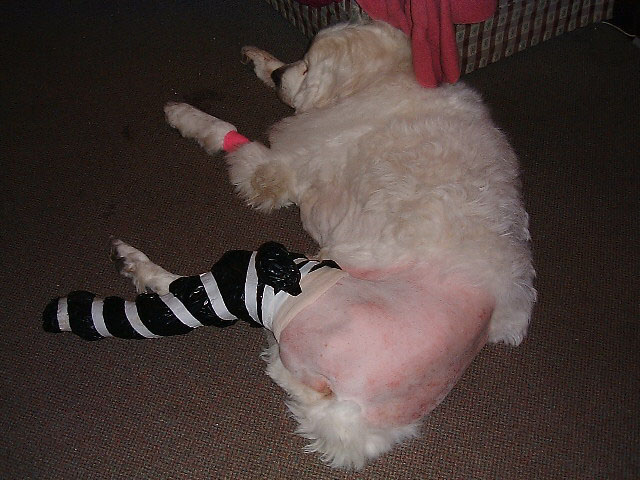 Poor Ralph had to have knee surgery. This is our guy right after getting home, the day after surgery. It was not a pleasant night. He seemed to have had a reaction to the morphine and screamed all night. Patty went with zero sleep the first and second night until we got rid of the morphine and started him on Tylenol 4's. He did much better the third night on the T4's. Terry slept on the couch next to him on the third night and gave Patty a chance for some sleep.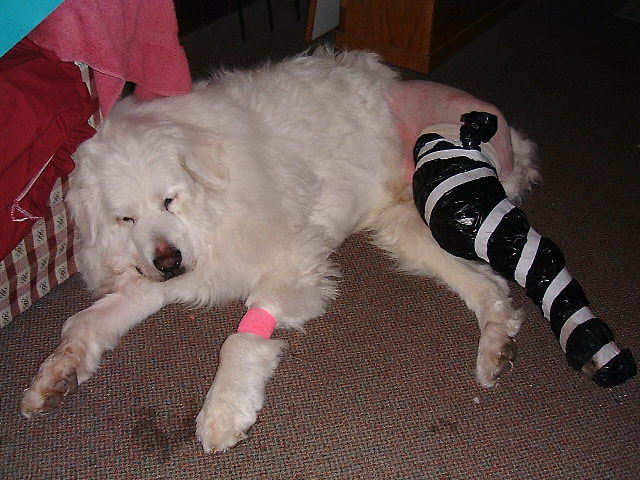 Another view of the zoned out doggie.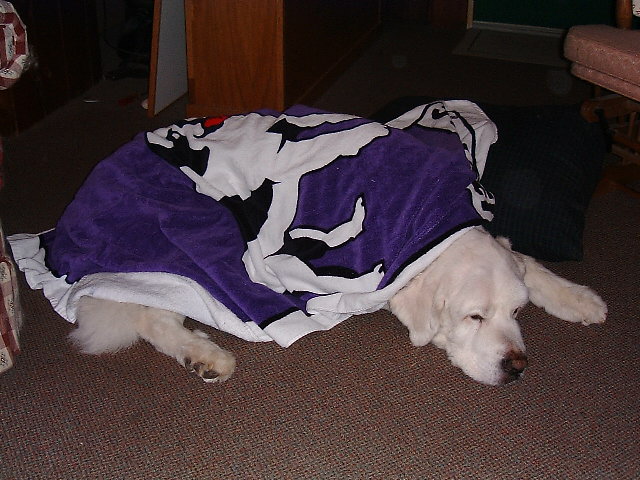 After Ralph's surgery, he looked funny with his back side shaved, so we had the groomer shave the rest. He was kinda cold this day, so the Big Dog towel to the rescue.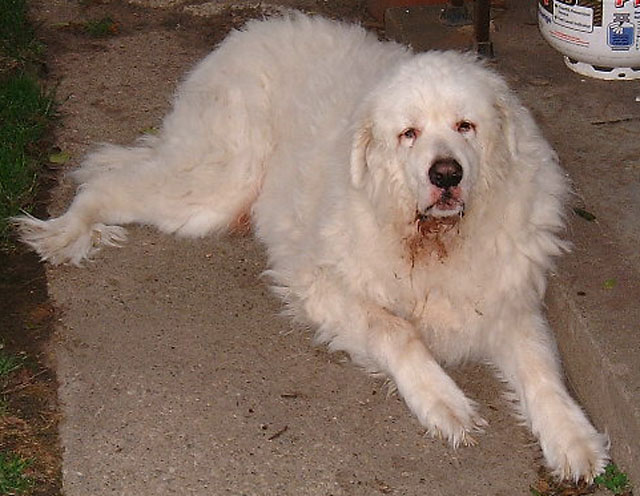 No one could ask for a sweeter guy. You will be in our hearts forever.
King Ralph
August 17, 1992 - September 5, 2003.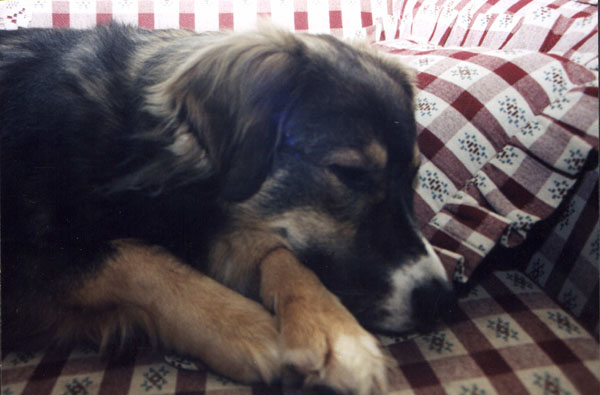 This is the Sammy dog. . ZZZZZZZZZZZZZZZZZZ!!!!!!
Sam is a two time reject from the Michigan Humane Society. I have no idea why, because he is the most affectionate, loving dog I have ever seen. He still doesn't like Ralph a whole lot though.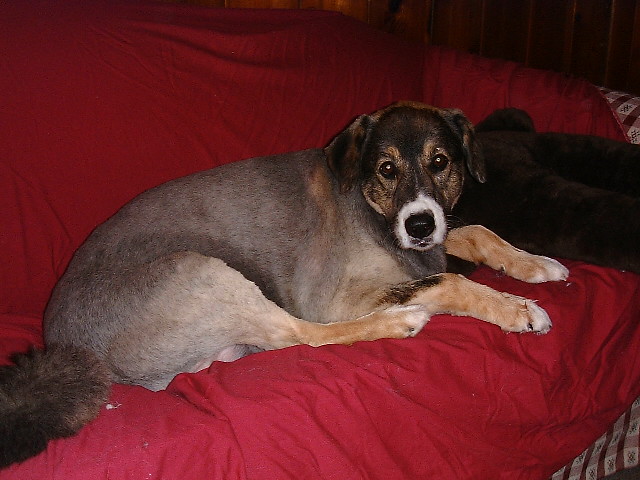 Sammy dog got shaved too. This is a couple weeks later. What a funny looking dog!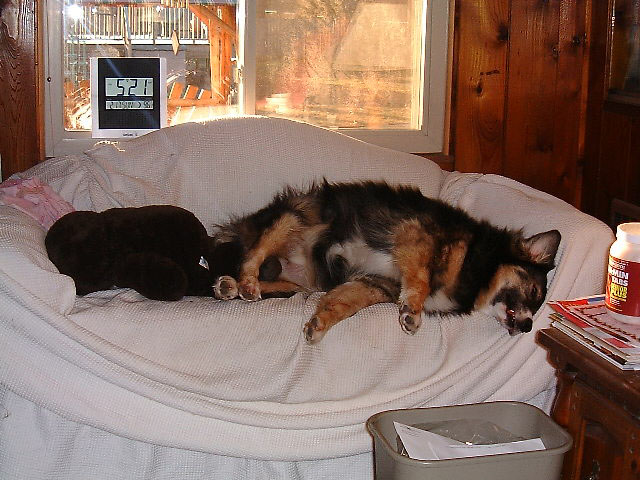 Sam says it's all about being comfy.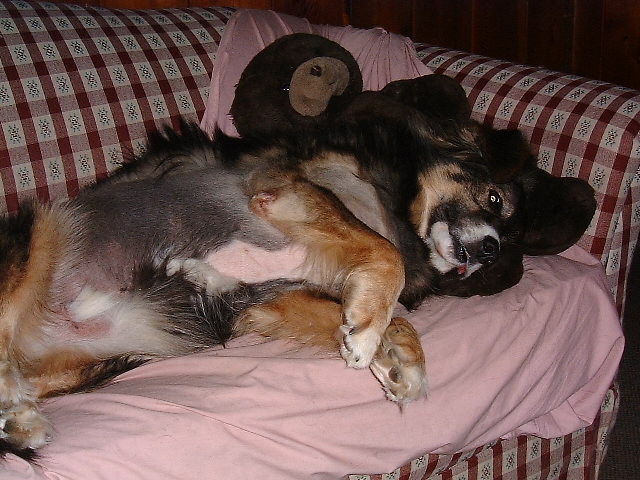 Way too comfy!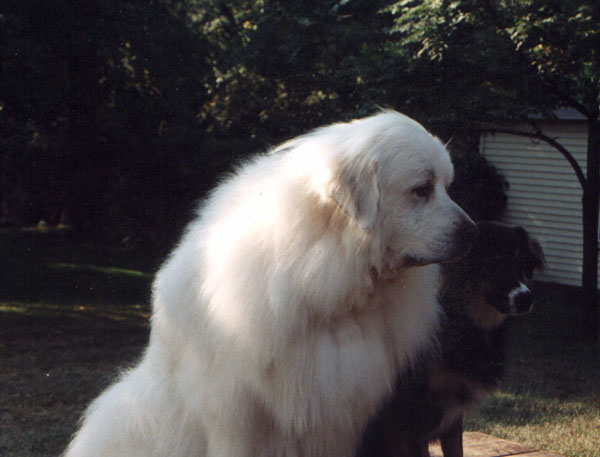 Ralph and Sam hoping for a treat.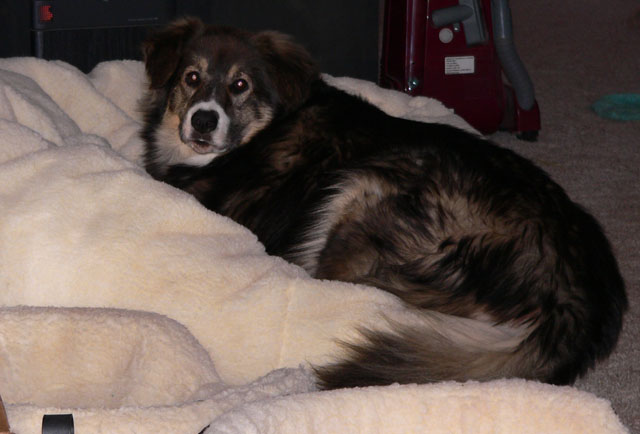 Sam
You were always the head honcho. You fought with Ralph,
you fought with Lacie,
and you grumped all the time at little Madison.
But for us you were the loviest guy around.
Part of our lives November 19, 1995 - December 6, 2004
In our hearts always